Pamela Higer-Polani,

A​ttor​ney at Law
We Travel To You,
Providing Affordable Legal Services
| | |
| --- | --- |
| Posted on August 3, 2022 at 11:10 AM | |
Tips to Protect You from Fraud!
If you're purchasing a new home in Palm Beach County – whether it's your first time, upgrading or downsizing –please protect yourself from possible fraud!!
Florida is not only one of the hottest housing markets in the country but it is also one of the areas most impacted by fraudulent activity!
Here are some suggestions to consider as you settle into your new home:
Tip #1: SIGN UP FOR PROPERTY FRAUD ALERTS.
Once you unpack a few essentials, take the first step to protect what is likely your greatest financial asset by registering at: https://www.mypalmbeachclerk.com/services/property-fraud-alert
This site helps monitor your name (and include your spouse or anyone else whose name may appear on the deed) in the Clerk of Court's Official Records system. This way, whenever a document is recorded in Palm Beach County, you will receive an alert within 48 hours, detailing what was recorded.
Staying vigilant is crucial and signing up is simple: Just register with an email address and the Clerk of Court will handle the rest!
Tip #2: DON'T OVERPAY FOR A COPY OF YOUR DEED
Upon recording a deed, many homeowners then receive a very official-looking notice, which states that by paying $89 for their services, you can get copies of records of your property deed and/or other property records.
However, all of these documents can be retrieved and viewed for absolutely no cost whatsoever!!
100% FREE at: https://www.mypalmbeachclerk.com/records/official-records/official-records-search.
Not computer-savvy? Hard-copies are available from the Clerk of Court at only $1 per page!
Tip #3: KNOW YOUR PROPERTY'S VALUE
Every August, the Palm Beach County Property Appraiser notifies taxpayers of their property's assessed and market values.
If you have a legitimate and reasonable belief that the assessment, classification or exemption status for your property is not accurate, you may (and should) file a Petition with the Value Adjustment Board at https://www.mypalmbeachclerk.com/departments/value-adjustment-board.
Being Educated, Prudent and Vigilant will all help prevent you from becoming a Victim of Exploitative Predators!
Most important, Congratulations on you on your new home and Welcome to Paradise!
Remember: BEFORE Your Troubles Hit the Fan, Please Create Your Estate Plan!!!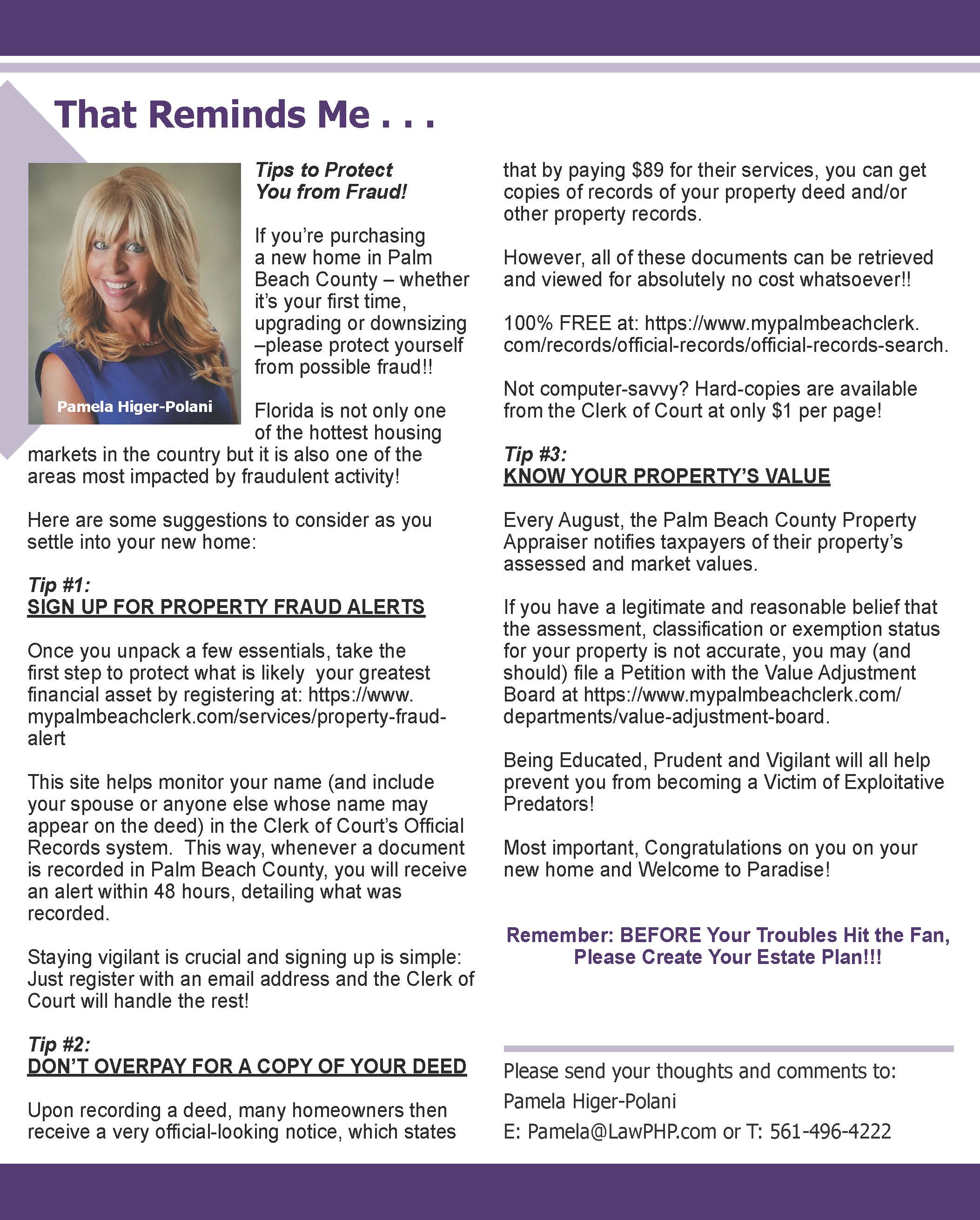 Categories: None
/